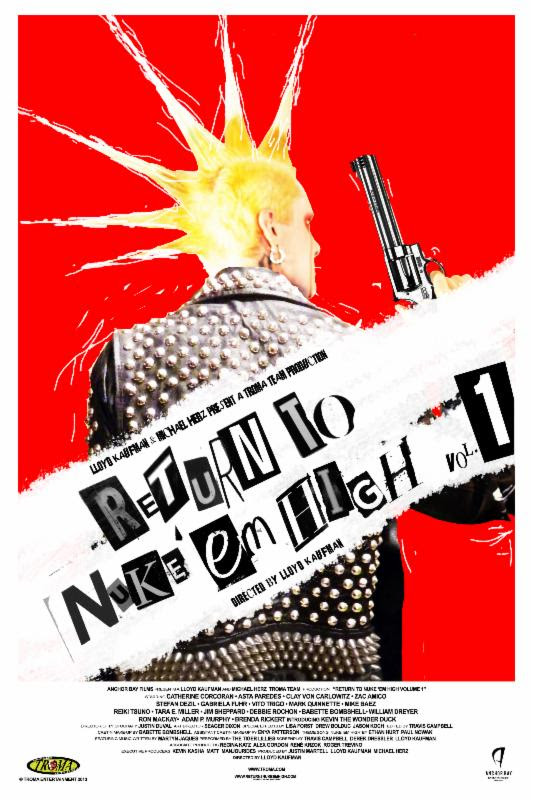 "People were cheering, yelling, laughing, jumping out of their seats, and just contributing wholeheartedly to the onscreen festivities. It was amazing."- Interview Magazine
The Troma Team is proud to announce that the "Return to Nuke 'Em High: Vol. 1" theatrical tour has been so successful that Lloyd Kaufman's latest Tro-Masterpiece has been brought back to New York.  "Return to Nuke 'Em High: Vol. 1" will make it's Yonkers Premiere this Saturday Night at the Alamo Drafthouse Cinema at 9pm. Lloyd Kaufman, will be in attendance joined by stars of the film, to introduce the screening as well as participate in an audience-interactive Q & A session. "Return to Nuke 'Em High" stars already confirmed to appear are Catherine Corcoran, Asta Paredes, Clay von Carlowitz, Zac Amico, and Mark Quinnette. After the film Lloyd Kaufman and the stars will be available at the Troma table to meet fans for free photo opportunities and autograph signings on all Tro-Merchandise.
Tickets are available NOW at the box office and online.   Alamo Drafthouse Cinema * 2548 Central Park Ave * Yonkers, New York 10710 http://drafthouse.com/nyc_area/yonkers
Come out and celebrate Troma's 40th Anniversary and be among the first to see the film that shocked audiences at the Cannes Film Festival and stunned at MoMA The Museum of Modern Art. And get ready to Return to Nuke 'Em High!