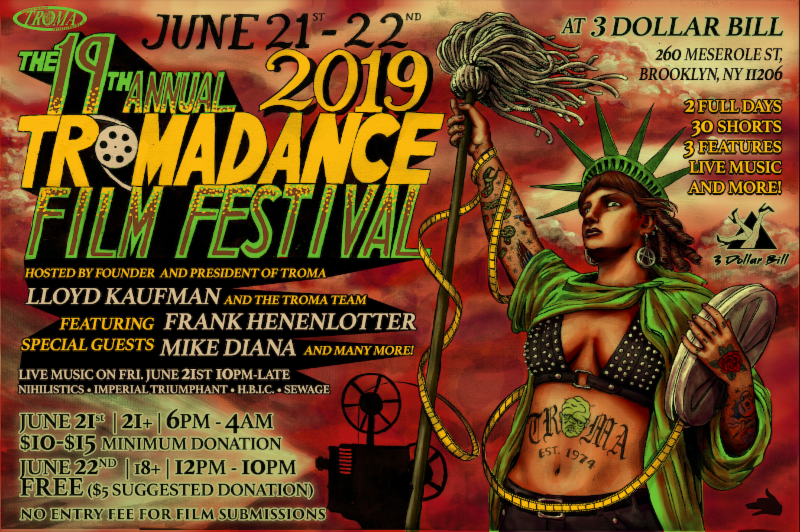 THE 19th ANNUAL TROMADANCE FILM FESTIVAL is HERE!JUNE 21st/ 21+/ 6PM-4AM/ $10-15 MINIMUM DONATION JUNE 22nd/ 18+/ 12PM-10PM/ FREE ($5 SUGGESTED DONATION)at 3 Dollar Bill in Brooklyn! No Entry Fee on All Film Submissions Every Year!

Hosted by LLOYD KAUFMAN and the TROMA TEAM Featuring Special Guests FRANK HENENLOTTER, MIKE DIANA, and MANY MORE!
Live Music Performances (June 21st Only: 10PM-Late)
IMPERIAL TRIUMPHANT
NIHILISTICS
SEWAGE NYC
H.B.I.C.

Screening Full-Length Features followed by a Q&A with Directors/Cast/Crew:

Boiled Angels: The Trial of Mike Diana- Dir. Frank Henenlotter
Assassinaut- Dir. Drew Bolduc
Portal Man- Dir. Charles Davis
Short Spotlight: Brutal Realty- Featuring a Q&A with Dir. Erik Boccio and Lead Star London May (Bassist of Samhain)

Dir. Dan Bringhurst Showcase- Whiskers & The Terrible Hole/ The Nautilus
30+ Shorts and Surprise Guest Panels TBA!!!
Sponsored by: DREAD CENTRAL, KITSPLIT, PIRECORDINGS, FORBIDDEN PLANET (Raffle) VEGAN ROB'S BAD DRAGON (Raffle)
Featured Artist Booths: NO FLOWERS FOR YT POWERS FRANK HENENLOTTER MIKE DIANA JOHN ZE and MORE TBA
ABOUT THE FESTIVAL
The Tromadance Film Festival is an Annual Free Film Festival presented by Troma Entertainment, the longest running independent film company in the US (45 YEARS and counting).

Tromadance features a range of films made independently, usually without big stars, big money and far removed from the Hollywood studio system. The official selected films of TromaDance have been made with nothing more than passion, courage, integrity, and raw talent.

Tromadance is an opportunity for everyone who's ever picked up a camera to have their work seen without the compromises required by elitist cartel interference.
Tromadance is proud to be the first and only film festival THAT IS TRULY INDEPENDENT for the people, and by the people.

ABOUT THE VENUE
3 Dollar Bill is the newest and largest Queer Venue in Brooklyn. Troma is honored to create this event with a safe space for everyone in the community, promoting independence, and the importance of expressing free identity.
LET'S WATCH SOME ART!