Hit of Fashion Week Also to Debut at 2015 New York Comic Con 
Toxie's creator Lloyd Kaufman will Sign For FREE at Troma Booth #426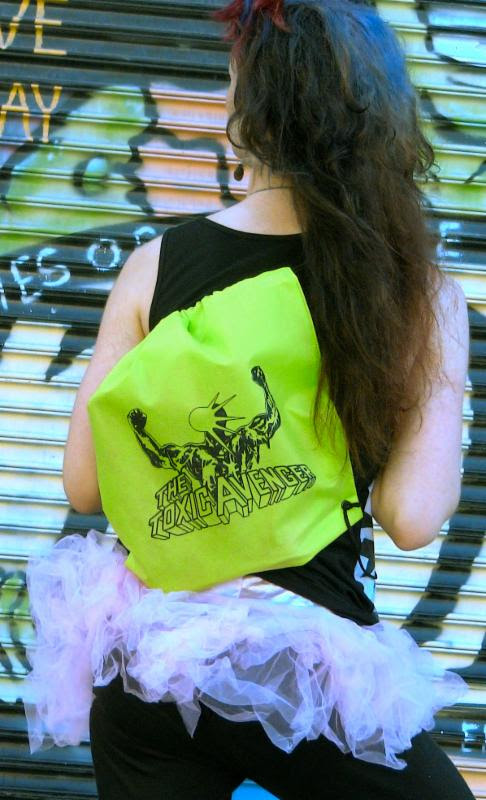 Toxie's Back to School Backdoor Backpack (Toxie Tutu not included), in Tromaville. Guaranteed to fit any back, including Quasimodo and Igor.
After being spotted on the streets of Milan and Paris, and its huge success during Fashion Week, Troma Entertainment has decided to bring the exclusive
The Toxic Avenger
Back to School Backdoor Backpacks to the 2015 New York City Comic Convention.  "It really works," said Troma President, Lloyd Kaufman. "I filled up my Toxie Back to School  Backdoor Backpack with candy corn and not one delicious kernel was spilled or damaged, even though I also had a few books and slices of Swiss cheese in the backpack."  These bags are truly EXCLUSIVE and will only be available at booth #426 at
NYCC from

October 8th-11th
. Although valued on the runways in Milan as "priceless," these stunning accessories will be available for only $8 each.  "These Tromazing backpacks are sure to cause a 'fan-toxic tsunami' at the NYCC, because trick-or-treating will be better than ever this year to store all your candy…or for your spare body parts," said
Kabukiman's Cocktail Corner
creator, John Brennan.
NYU biology students use Toxie's backpack to carry their homework
Troma Entertainment couldn't be more excited to be a part of NYCC 2015 at the Javits Center and while you're at Troma's booth, #426, you'll have a chance to meet Lloyd Kaufman, President of Troma Entertainment and creator of
The Toxic Avenger
. Kaufman will be in attendance all weekend-
October 8th-11th
, signing merchandise and appearing in photographs, FREE of charge (a rarity among the celebrity elite). Kaufman and his crew–Toxie, Sgt. Kabukiman, and Ophelia Rain, star of
Return to Nuke 'Em High Vol. 2
, are looking forward to are looking forward to having another Toxerrific year.