Reclusive VP Michael Herz Introduces Project, Marking First Appearance in 15 Years
The Troma Team launched its official 
Return to Nuke 'Em High: Volume 2
Kickstarter
campaign today–inspiring $4,000 worth of donations in only 3 short hours. The campaign, which aims to raise $50,000 for post-production costs on the "explosive" final installment of Lloyd Kaufman's two-part
Return to Nuke 'Em High
saga, was announced this week on
Buzzfeed
.
Return to Nuke'Em High: Volume 2
is one of Troma's most ambitious projects. For more details on the official Kickstarter, click 
here
.
  "Principal photography has wrapped and we've assembled a working cut of the film we know the world will love," says the official 
Kickstarter
. "All that remains are the post production costs: sound mixing, color correction, editing, special effects, mastering, etc. Your generous support will get our movie completed and enjoyed by film fans all over the world!"
Troma is raising $50,000 for post-production costs: color correction, sound mixing, mastering, and special effects.
The official video for the campaign prominently features the reclusive Vice President of Troma Entertainment, Michael Herz. Appearing for the first time in 15 years, Herz introduces the project and invites Troma's many fans to "help us complete what I consider to be the finest Troma film of all time." Herz is joined by Kaufman and Return to Nuke 'Em High stars Catherine Corcoran and Asta Paredes.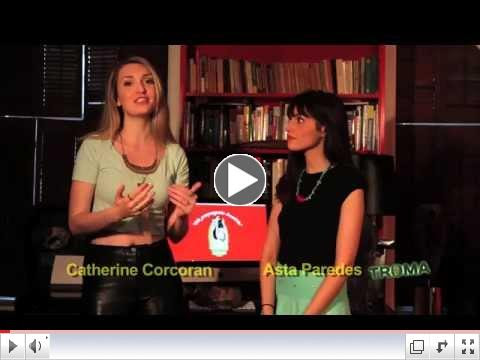 Troma's Official "Return to Nuke 'Em High: Volume 2" Kickstarter Video
Troma is offering backers a multitude of "Tromazing" prizes for their generous support, including "valuable one-of-a-kind props from the movie, a weekend visit at Lloyd Kaufman's crib, and even prestigious credits in the finished film." Prizes also include Return to Nuke 'Em High: Volume 2 Blu-rays, posters, and other exciting items.
These two one-of-a-kind props are being offered to supporters of the official 'Return to Nuke 'Em High: Volume 2'
Kickstarter
.
Troma fans and genuine independent art lovers have already have shown their support on Kickstarter. They've also taken to social networking sites, where the hashtag #SaveNukeEmHigh has gained significant traction.