The Troma Team has officially relaunched its '
Return to Nuke 'Em High: Volume 1 & 2
' Facebook fan page. The page broke its year long silence today with a playful "#FlashbackFriday" tease, exciting fans worldwide and re-igniting their frenzied anticipation for Troma's next release.
#FlashbackFriday – with Catherine Corcoran and Asta Paredes
Regular posting is expected to resume, hinting at a possible update on the eagerly awaited "Return to Nuke 'Em High: Volume 2." Fans should 'Like' Troma's "
Return to Nuke 'Em High: Volume 1 & 2″
fan page for further updates.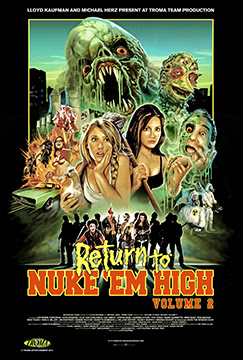 'Subscribe' to
Tromamovies
YouTube Channel for hundreds of full length films and other shorts!