Lloyd Kaufman and the Troma Team have just premiered an exclusive
behind-the-scenes
'making of' short for New Found Glory's "One More Round" music video. The band's
official video
, which premiered last week on Hopeless Records' YouTube channel, has since gone viral.
Pop-punk megastars New Found Glory have a longstanding relationship with Kaufman, who appeared in their 2002 "Head on Collision" video alongside The Toxic Avenger and Sgt. Kabukiman N.Y.P.D. The members of the band were also all murdered in Troma's 2004 releaseTales From the Crapper. Kaufman and New Found Glory have remained friends throughout the following ten years, culminating in an invitation to Kaufman to appear in and host the "One More Round" behind-the-scenes, which aimed to feature more blood than any other music video in history!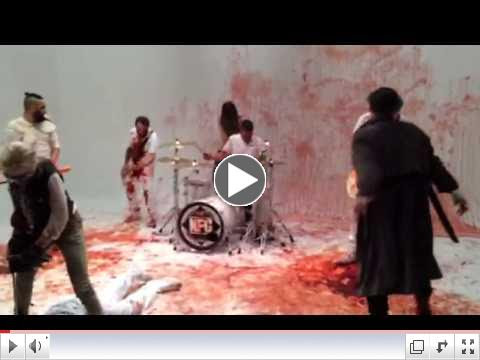 Uncle Lloydie's Diary: Hayley of Paramore enjoys New Found Glory!!
New Found Glory flew "Uncle Lloydie" to Los Angeles in January to join them on set, where he was welcomed by Hayley Williams of Paramore and the Toxic Avenger himself. "New Found Glory is my favorite band," said Kaufman through his official Facebook, "and I'm honored to have helped them become 'New Found Gory.'" For this and more Tromatic behind-the-scenes music videos, fans can visit Troma's ever expanding Tromamovies Youtube Channel.