Fans flock to Melbourne to attend!
Following two extremely successful west coast appearances at Stan Lee's Comikaze and the American Film Market, Lloyd Kaufman is flying into Melbourne, Australia for his first "true blue" Monsterfest film festival. On November 23-24, Kaufman will be hosting two exclusive Monsterfest events: an all day 'Make Your Own Damn Movie' Masterclass and a very special Troma double-bill.
On November 24, Kaufman will be teaching his legendary 'Make Your Own Damn Movie' Masterclass. Melbourne will become the latest international city to host Kaufman following notable examples in Vienna, Singapore, and St. Petersburg, as well as Yale University and Oxford University. This very special all-day event begins at 10am and will feature an intermission screening of the classic "Tromeo & Juliet." Tickets and information for the Masterclass can be found here.
Monsterfest attendees and Troma fans can also attend a double-bill screening of "The Toxic Avenger" and "Class of Nuke 'Em High" on the eve of Lloyd's Masterclass, November 23. The two films will be screened at Melbourne's Cinema Nova theater starting at 9:00 PM. Information and tickets are available here.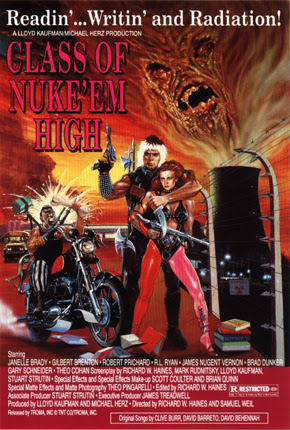 Cinema Nova is located on Lygon Street, Melbourne, Victoria, Australia 3053
Kaufman's Masterclass will be held at YahYah's, located at 99 Smith Street, Melbourne, Victoria, Australia 3065