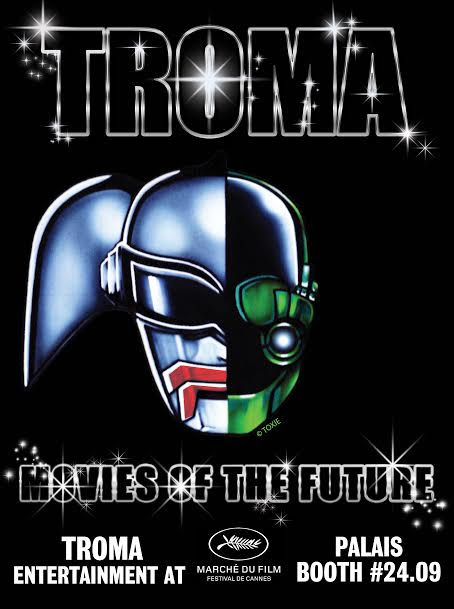 The Troma Team has arrived in Cannes and with today being the opening day of the Festival De Cannes, day to day operations will commence at Palais Booth 24.09 – the official headquarters of Troma Entertainment for the duration of the festival.


All of the usual parades, rallies, and street performances on the Croisette with Toxie, Sgt. KabukiMan NYPD, and friends that you've come to expect from Troma every year will take place such as this very special Tribute to Super Critic Roger Ebert filmed during the Occupy Cannes Movement at the 2013 Festival.  
Attendees interested in learning more about "
Occupy Cannes,
" "
Return to Nuke 'Em High: Vol. 2,
" "
Pro Wrestlers Vs Zombies,
" or any of the 800 other Tro-mazing titles in our catalog should stop by Troma's Cannes headquarters, Palais Booth 24.09.  
Meetings can be set up by e-mailing Matt@Troma.com or Jess@Troma.com. 
Head of Troma Team Video, Matt Manjourides, will be in Cannes and reachable on his cell phone

011-336-7344-5021

.
Interviews with legendary director Lloyd Kaufman and "Return to Nuke 'Em High" & "Occupy Cannes" Star, Catherine Corcoran can be set up with Joe@Troma.com.
Make sure to also stop by the Booth and pick up your Exclusive invitation to the TROMALUNIGHT party on
May 18th
at Le Petit Majestic for a night to celebrate Troma's 40th Anniversary and honor independent art in the French Riviera!
Le Petit Majestic is located at 6 Rue Tony Allard, Cannes, France 06400