DREW BOLDUC'S "SCIENCE TEAM" TO MAKE NYC PREMIERE AT THE 15TH ANNUAL TROMADANCE FESTIVAL!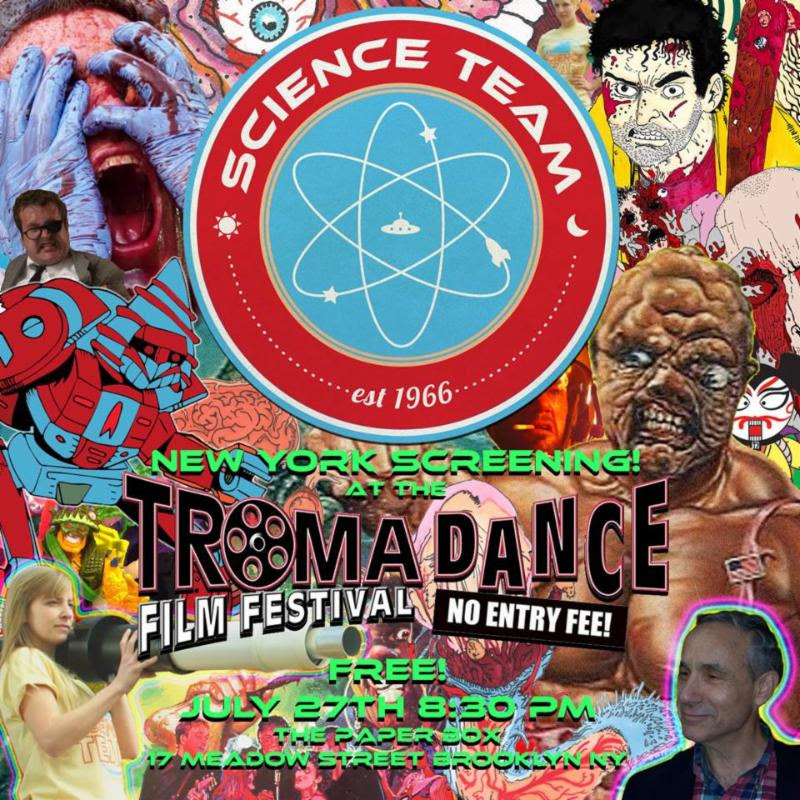 "Nothing Evil Has Ever Come From Science"
 Troma Entertainment is pleased to announce the first official feature of the 15th Annual TromaDance Film Festival. Drew Bolduc's science fiction horror-comedy "Science Team" will make it's New York City Premiere on the opening night of the Festival at 8:30pm.*
"Science Team" is a satirical independent film about a national organization, called Science Team, whose main purpose is to maintain interstellar peace and protect America from the many alien threats that seek to destroy us. They respond to an emergency call from a typical suburban home and are confronted by a giant sessile alien menace with telepathic powers. People's minds are literally blown out of their heads!
Bolduc's first film The Taint premiered at the 2011 TromaDance Film Festival and impressed a standing-room only audience so much so that it wound up being distributed by legendary director and creator of the "Toxic Avenger," Lloyd Kaufman, and Troma Entertainment. It has grown to become one of most popular Troma Team Video releases in recent years. Since the teaser video below began making its rounds online audiences from all over have been eagerly awaiting the chance to see Bolduc's follow-up film, "Science Team," now at the 15th Annual TromaDance Film Festival they can.
Science Team Teaser
Stay tuned to the Official TromaDance website and Troma Facebook page for more announcements in the coming weeks! Mark June 27th and 28th on your calendar and come celebrate this milestone year with us at the Paper Box in Brooklyn, NY for what will surely be a Tro-Mazing week-end of independent art!
*Start time subject to change based on schedule.   The Paper Box is located at 23 Meadow St, New York, NY 11206