In headline-making news, this week Troma President and Creator of the Toxic Avenger, Lloyd Kaufman, will be traveling to Finland as an honorary guest of the Night Visions Film Festival in Helsinki. Night Visions, "the biggest and the oldest festival in Finland to focus on horror, fantasy, science fiction and action cinema", will showcase two of the legendary director's Tro-Masterpieces and Premiere his latest and greatest film, "Return to Nuke 'Em High: Vol. 1." Beginning on Thursday, April 10th "Poultrygeist: Night of the Chicken Dead," the first ever Musical Horror-Comedy about Chicken Zombies and the final film Kaufman directed on 35mm, will screen theatrically for the first time in Finland! The screening starts at 8:30pm at the Andorra Cinema, Lloyd Kaufman will introduce the film and conclude with a crowd-interactive Q & A session.  There will be opportunities to Meet Lloyd Kaufman after the Q & A for FREE Photos and Signings on all of your favorite Troma merchandise at the Troma table.
Andorra is located at Eerikinkatu 11, 00100 Helsinki, Finland
Then on Friday night April 11th (technically Saturday April 12th) there will be a Special late-night showing of Joel M Reed's "Bloodsucking Freaks" (originally titled "The Incredible Torture Show,") a film distributor Kaufman believes has only gotten more disturbing over time. This will also be the first time this grindhouse, cult-favorite screens theatrically in Finland. The screening begins at 1:00am at the Kino Engel Cinema with introduction from Lloyd Kaufman.


Kino Engel Cinema is located at Sofiegatan 4, 00170 Helsingfors, Finland.
Saturday Night, April 12th Lloyd Kaufman presents his original Tro-Masterpiece, the "Toxic Avenger," in all of it's full, uncut glory at 6:15pm at the Bio Rex Cinema. Celebrating it's 30th Anniversary this year, experience the film that made Troma Entertainment a cinematic legend and Lloyd Kaufman and independent film icon. Lloyd Kaufman and "New Jersey's First Superhero", the Toxic Avenger himself will introduce the film as well as answer any audience questions at it's conclusion. Afterwards come to the Troma table to meet Lloyd Kaufman and the Toxic Avenger for FREE Photos and Signings on any and all Tromabilia.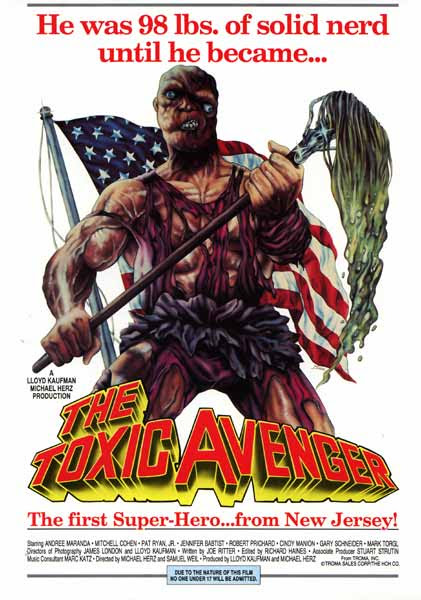 The Bio Rex Cinema is located at Mannerheimintie 22-24 00100 Helsinki, Finland
 Then on Sunday April 13th, Lloyd Kaufman will return to the Kino Engel Cinema for the Official Finland Premiere of his Sistine Chapel "Return to Nuke 'Em High: Vol. 1." Having made it's World Premiere at the Cannes film festival, been selected by the Museum of Modern Art for their prestigious 2013 "Contenders" series, and been honored by the world-renowned American Cinematheque, "Return to Nuke 'Em High: Vol. 1" continues to premiere across the world picking up critical acclaim along the way. Troma Entertainment is proud to present it to Finland for the first time ever at the Night Visions Film Festival. The screening begins at 8:30am, come out and celebrate Troma's 40th Anniversary and get ready to Return to Nuke 'Em High!