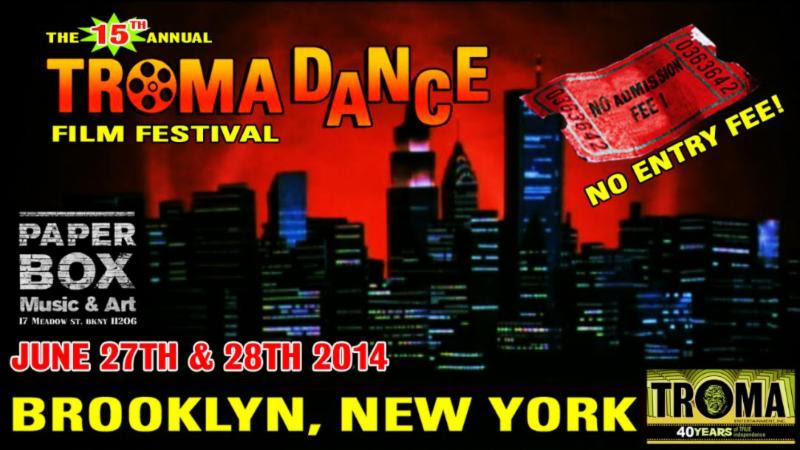 Now in it's 15th year, the TromaDance Film Festival has grown into an event that filmmakers and film connoisseurs alike travel the world to attend. The reason for this is because since it's early beginnings as a DIY, grassroots alternative to the corporate elitist-run festivals in Salt Lake City, TromaDance has never swayed from it's ideals. TromaDance does not charge film makers anything to submit their films. All TromaDance screenings are free to attend and with the festival's strict "No VIP Policy", celebrities and fans are treated equally.  On June 27th and 28th, 2014, in celebration of it's 15th Anniversary, TromaDance moves to the Paper Box in Brooklyn, NY – a bigger venue in an exciting new city that will make the festival more more accessible than ever!
Here is an Early look at the schedule:
On Friday June 27th, the TromaDance official opening night kick-off will see a block of films tba showcased from 6pm – 10pm.
On Saturday June 28th, TromaDance begins at 12pm. Films will be shown in blocks all the way up until 10pm. Then the TromaDance After-Party will commence with bands and performers tba.
Stay tuned to the Official TromaDance website and Troma Facebook page for more announcements in the coming weeks! Mark June 27th and 28th on your calendar and come celebrate this milestone year with us at the Paper Box in Brooklyn, NY for what will surely be a Tro-Mazing weekend of independent art!  The Paper Box is located at 23 Meadow St, New York, NY 11206