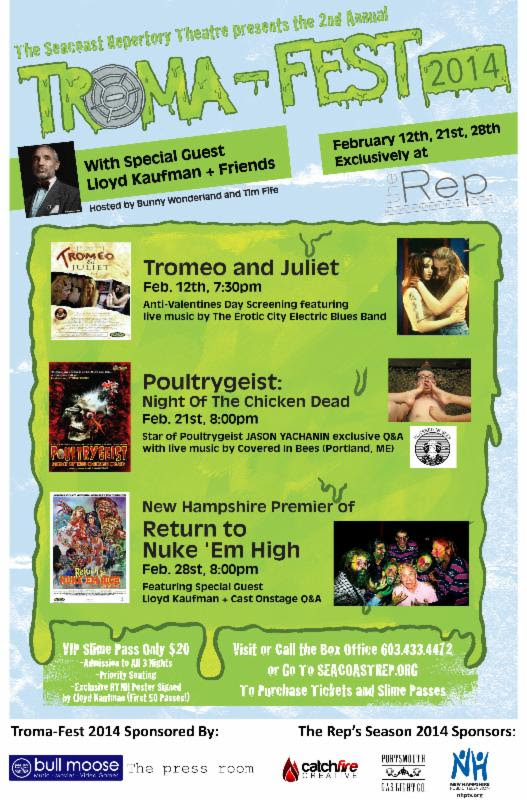 The Troma Team is proud to announce their return to Portsmouth, New Hampshire and the Seacoast Repertory Theatre for the 2nd Annual Troma-Fest in February 2014. Troma-Fest will feature three different Tro-Masterpieces on three exciting nights, including the New Hampshire Premiere of "Return to Nuke 'Em High: Vol. 1" on February 28th.
Troma-Fest begins on Feb. 12th with an "Anti-Valentines Day" screening of "Tromeo and Juliet" featuring a live music pre-show provided by local noise rockers The Erotic City Electric Blues Band covering the worst love songs of all time and hosted by the hilarious Timothy Fife and the "Queen of B's", Bunny Wonderland. "Tromeo and Juliet" screens at 7:30pm.
On Feb. 21st Troma-Fest continues with "Poultrygeist: Night of the Chicken Dead." Star of the film, Jason Yachanin will be in attendance for an onstage Q&A. Live music from Portland Maine's punk rock gods Covered In Bees (who also happen to be featured on the Poultrygeist soundtrack) opens the show. "Poultrygeist: Night of the Chicken Dead" will screen at 8pm.
Then on Feb. 28th, legendary director and creator of the "Toxic Avenger", Lloyd Kaufman returns to Portsmouth for the official New Hampshire PREMIERE of "Return To Nuke 'Em High: Vol. 1." This very special screening will feature an onstage Q&A with Lloyd Kaufman after the film. The Troma-Fest wrap party will commence following the Q&A at The Press Room. "Return To Nuke 'Em High: Vol. 1" premieres at 8 pm.