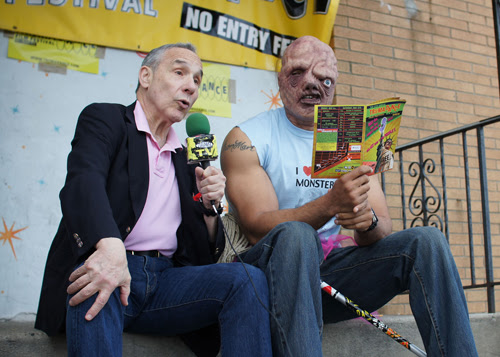 "I love TromaDance, everyone is so great, the films are amazing, and I loved Asbury Park and the Audiences."
– Bill Plympton, Academy-Award-Nominated Animator
Due to an overwhelming number of submissions and many requests, the call for submissions for the 15th Annual TromaDance Film Festival has now been extended! The new cut-off date for entries is February 28, 2014. We are very grateful for the submissions that we have received thus far and look forward to making this the best TromaDance yet!
More About TromaDance 
TromaDance is the first film festival wholeheartedly devoted to filmmakers and fans. Unlike every other film festival, TromaDance does not charge filmmakers to submit their films. Entrance to all screenings is free and open to the public. Also, there are no VIP reservations or preferential treatment regarding films, panels, or parties of any kind given. The organizers of TromaDance believe films are meant to be seen, especially when it comes to new filmmakers. Art – in all its forms – is for the people!
TromaDance features a range of films made independently, usually without big stars, big money and far removed from the Hollywood studio system. The official selections of TromaDance have been made with nothing more than passion, courage, integrity, and raw talent.
Everyone at TromaDance is treated as an equal. The elite and the celebrated are treated no better or worse than the experimental filmmaker or the random moviegoer off the street. Admittance to all screenings, panels, parties, and events is strictly on a first come, first served basis. If there are any VIPs at TromaDance, they are the filmmakers whose blood, sweat, and hard work are on the screen.
TromaDance is an opportunity for everyone who's ever picked up a camera to have their work seen without the compromises required by elitist cartel interference. TromaDance is proud to be the first and only film festival of the people, for the people, and by the people.
For more information on TromaDance & submitting your film please visit: http://tromadance.com
Count Smokula's TromaDance Theme Song: http://www.youtube.com/watch?v=p4M0BIr5ESo