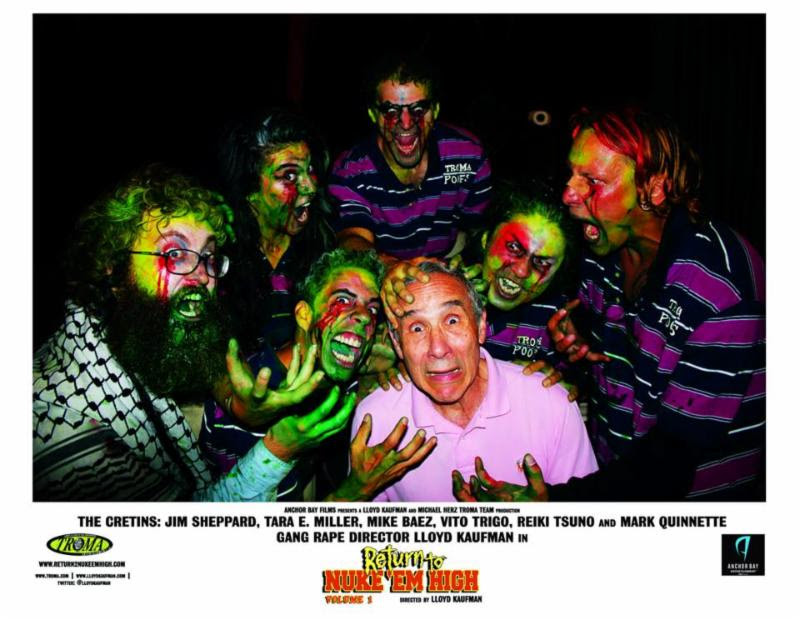 The Troma Team returns to Ottowa, Canada for a special three-night premiere of Lloyd Kaufman's latest film "Return to Nuke 'Em High: Vol. 1" starting on Friday January 24, 2014 at 9:45pm at the Mayfair Theatre. Troma President and creator of the "Toxic Avenger" Lloyd Kaufman will be in attendance for the Friday January 24th and Saturday January 25th screenings to introduce the film and host a Q and A. Joining the director and legendary auteur on Friday and Saturday night will be Troma star Ron Mackay and the Toxic Avenger to sign all of your Tromatizing merchandise needs at the Troma table. Critics have been raving about "Return to Nuke 'Em High: Vol. 1" since it opened in theaters across North America.    
 Interview –
"People were cheering, yelling, laughing, jumping out of their seats, and just contributing wholeheartedly to the onscreen festivities. It was amazing."
Time Out –
"The films by the fine folks at Lloyd Kaufman's trashy Troma Entertainment require their own critical scale-consider this one half hilariously awful and half awfully hilarious.
As unlikely as it may sound, put in the plus column a whole lotta bad taste: shockingly inappropriate jokes about high-school shootings, Jerry Sandusky and George Zimmerman; a rampaging, radioactive penis that burrows into an unlucky character's chest cavity and eats his heart. (You know, that sort of thing.) The movie hinges on a lengthy lesbian sex scene between in-on-the-joke leads Asta Paredes and Catherine Corcoran; Blue Is the Warmest Color this ain't."
The New York Times –
"Powered by ribald bursts of bad taste and bodily fluids… The overall effect is [sic] joyous."
Also this Saturday afternoon Lloyd Kaufman brings his famous "Make Your Own Damn Movie" Masterclass exclusively to Ottawa at the SAW Video Media Art Center starting at 2pm. With a maximum capacity of 30 people, you'll want to get your tickets early as seats fill up quick for this intimate and informative workshop.
Celebrate Troma's 40th Anniversary and see the Tromasterpiece that shocked audiences at the Cannes Film Festival and stunned at the Museum of Modern Art's "2013 Contenders Series." Get ready to Return to Nuke 'Em High!
Mayfair Theatre, 1074 Bank St, Ottawa, ON K1S 3X3, Canada    For more information on the Mayfair Theatre: http://mayfairtheatre.ca/
For tickets & more information on the Make Your Own Damn Movie Masterclass:
http://www.sawvideo.com/resources/workshop/scheduled/make-your-own-damn-movie
Electronic press kit for "Return to Nuke 'Em High: Vol. 1": http://return2nukeemhigh.com/rtnh_epk_nov2.pdf.
Theatrical trailer for "Return to Nuke 'Em High: Vol. 1": http://www.youtube.com/watch?v=SIhxM3AufYA.