CRITICS LOVE RETURN TO NUKE 'EM HIGH VOL 1 OPENING JAN 16 AT LAEMMLE NOHO 7!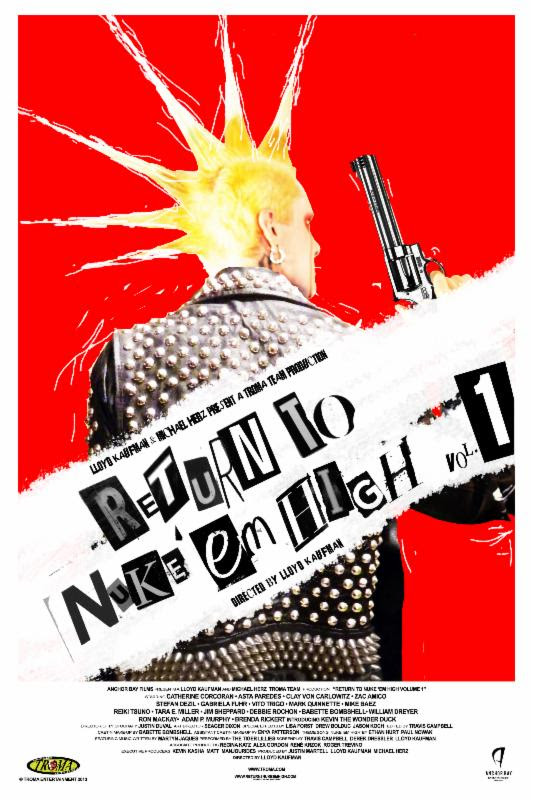 "People were cheering, yelling, laughing, jumping out of their seats, and just contributing wholeheartedly to the onscreen festivities. It was amazing." – Interview Magazine
After selling out the Museum of Modern Art during it's induction into the 2013 Contenders series and a successful opening in NY, the critics reviews are in on Lloyd Kaufman's latest film "Return to Nuke 'Em High Vol. 1." Here's what the critics are saying:
The New York Times –
"Powered by ribald bursts of bad taste and bodily fluids… The overall effect is [sic] joyous."
Chicago Now –
"This film has an extremely retro flavor, including the 80s-flavored theme song and typical teenage sterotypes: the heroine of modest means who just wants to save the world, poor little rich girl, dweeby nerds, fat guys, dumb jocks, etc.etc.etc. Director Lloyd Kaufman, in typical Troma style, takes all this and twists it into a hilarious, disgusting mess that both shocks and entertains the viewer." 
Variety – 
"Fans…- of Lloyd Kaufman's infamous Troma … will doubtless[ly] embrace…"
New York Post – 
"Return to Nuke 'Em High" is an occasionally hilarious series of parodies: "Carrie," "Soylent Green," "Glee," "Cat Ballou,".
Imagine the French lesbian romance "Blue Is the Warmest Color" as a raunchy American exploitation flick…
Time Out –"The films by the fine folks at Lloyd Kaufman's trashy Troma Entertainment require their own critical scale-consider this one half hilariously awful and half awfully hilarious."
We Got This Covered – 
"There's nothing comparable to a Troma film, and Lloyd Kaufman is back to his old tricks with his fourth effort in this gratuitous franchise. Return To Nuke 'Em High Volume 1 is not only a satirical assessment of our current society, but it's a love-letter from Lloyd to his fans."
"Tromaville High School has never felt so fresh and inviting, ripe with students just begging to be dismembered, pulverized, brutalized, and graphically maimed – which there's plenty of. Kaufman's newest high school romp is some of Troma's best work, right on par with a personal favorite of mine called Poultrygeist: Night Of The Chicken Dead."
Crave Online –
"Every scene has something wild in it.
Slant –
"Because it actively defies and outright ridicules all notions of aesthetic intent, proper form, and moral propriety, Return to Nuke 'Em High Volume 1 is essentially impervious to standard critical evaluation."
The Voice
"…jackpot…"
Troma Entertainment is proud to announce that "Return To Nuke 'Em High: Vol. 1" will Premiere in Los Angeles tomorrow evening at the Laemmle NoHo 7 where it will screen from January 16th through January 23rd. Tickets can be purchased online at  http://www.laemmle.com/theaters/23/
Director, legendary auteur, and creator of the "Toxic Avenger" Lloyd Kaufman and stars Catherine Corcoran, Asta Paredes, and Clay von Carlowitz will be in attendance to introduce the award-winning Tromasterpiece and host a Q and A at the theater on January 16th at 7:30pm to celebrate the opening and Troma's 40th Anniversary.
The Laemmle NoHo 7 is located at 5240 Lankershim Blvd, N. Hollywood, CA 91601
For more information on the theater: http://www.laemmle.com/theaters/23
Electronic press kit for "Return to Nuke 'Em High: Vol. 1": http://return2nukeemhigh.com/rtnh_epk_nov2.pdf.
Theatrical trailer for "Return to Nuke 'Em High: Vol. 1": http://www.youtube.com/watch?v=SIhxM3AufYA.